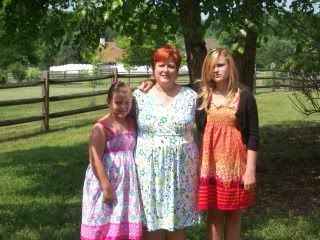 Yesterday I got the idea to sew. Actually this idea has been brewing for a few days. Friday I went to Hancock Fabrics and got fabric for dresses for all three of us girls.
Katie and Amanda's dresses were made from the pre-smocked sundress fabric, with grosgrain ribbon for the straps. I opted to make the straps solid instead of two straps to tie in a bow. I just kept thinking that big knot of ribbon on your shoulder would hurt after a while.
My dress was made from a McCalls pattern which was on sale for 1.99. The fabric was also on sale. I haven't sewn on knit for a long time, and about lost my mind trying to wrangle the fabric, which seemed to have a mind of it's own!
Despite all the grumbling, the dress turned out pretty well. I am thinking I can make another out of a cotton fabric, even though the pattern calls for knit. I think I can put a zipper in the side seam under the arm without any problems - ala 1950s dresses. I also think I might make the shoulders a bit narrower.
I have some more fabric I bought for a skirt, but it might end up being a dress. I also have some cute blue fabric with frogs on it to make a top for Amanda. Sew on!