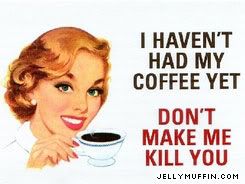 Good Morning! I have, indeed had my coffee so the world is now safe.
I have spent the morning searching for summer reading programs. Amanda especially loves the goals and prizes when it comes to reading. (Katie has unfortunately aged out of most of the programs.)
We love getting goodies and free books and such, so here are a few I found and thought I would share:
1)
Public Library of Charlotte and Mecklenburg County
- of course this only applies to those of us who live here, but most local library systems have some sort of summer reading incentive program.
PLCMC Summer Reading Program
These programs go from infant to adult. Prizes include being able to read down your over due fines, and earning book bucks for free paperbacks.
2)
Borders
- Read 10 books and earn a free book!
Borders Double Dog Dare Reading Program
3)
Barnes & Noble
- Read 8 books and receive a free book from a select group. (You can complete this one up to 2 times)
Barnes & Noble Summer Reading
4)
Scholastic Summer Reading
- read and log your minutes online to win digital prizes. Schools alos earn and you can register as a homeschool.
Scholastice Summer Reading Program
5)
Half Price Books
- log your minutes between 6/1 & 7/31. Bring your log into the store to receive $5 in Back to School Bucks. Top reader in each age group receives $20. (NOTE: There is no HPB in the Charlotte area, but check to see if your will be traveling to a place where they have a store!)
Half Price Books Summer Reading Program
6)
Pizza Hut Book-it Summer Reading Challenge
- Read 5 books and send in the entry form for a chance to win some cool prizes!
Pizza Hut Summer Break Book-It Program
7)
H.E.B Summer Reading Club
- This is a store chain out of Texas, but we did this one last year and got a really cute t-shirt and pencils!
H.E.B Buddy Summer Reading
8)
Old Spaghetti Factory
- read 5 books and be eligible for a free kids meal!
Old Spaghetti Factory Reading Program
9)
Chuck E Cheese
- read every day for 2 weeks and receive 10 free tokens
Chuck E Cheese Summer Reading
There are lots of fun programs to get kids reading this summer - ENJOY!